Central Heating
At Vincent Coyle Plumbing and Heating we can tailor the right Central Heating system for your family's needs. We can install all types of systems including: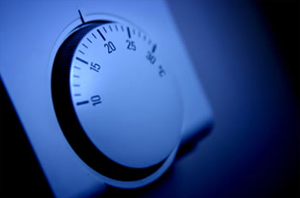 Gas Central Heating
Electric Central Heating
Underfloor Heating
There are many different options and we can provide the essential advice so you have an efficient system to suit you.
We will provide you with a competitive quotation and an excellent fitting service.
Our service includes full installation and aftercare.
We can provide a range of boilers to suit your needs and budget.
Electric Central Heating is becoming more popular due to the increase in oil prices. With no need for oil storage it can be a very easy and effective alternative.
Here is some information that help you decide.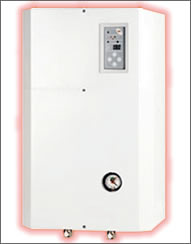 Option 1 – A Traditional Non-Combination Boiler (Fusion)
This sytem is made up of 2 parts. Firstly the boiler, which is often hung on the wall, will pump the water round the radiators known as a direct flow boiler. (These boilers work on the Economy 10 tariff from Hydro Electric). The second part is the hot water cylinder which stores and supplies your hote water, this is heated up from a range from 6,9,12,14KW.
Examples are boilers such as Fusion. Often these systems can be less expensive to install than electric combination boilers.
Economy 10
This tariff gives 10 hours of off-peak, (half price) electricity per day and is provided by Scottish Hydro Electric, (SHE). The tarff applies to whole house electricity supply.
Fitting the meter takes approx. 6-8 weeks from the application being received by SHE, who will also contact you by letter, after 4 weeks or so, that you are about to become a customer.
Your existing provider may contact you to ask why you are leaving but the Economy 10 meter, (only available from SHE), is essential for lower running costs.
If you install your electric heating system before the Economy 10 meter is fitted we advise that you run the heating and hot water sparingly – you will be charged at full rate for your electricity consumption. We have some tips below:-
•Keep the Boiler temperate at 65 °c
•Keep the bedroom and toilet thermostatic radiator valves at number 3
•Try to keep the room thermostat under 20°c, (66%deg;F)
•Keep the running time to a minimum
Off-Peak times are:
04.30 – 07.30
13.30 – 16.30
20.30 – 12.30am
Peak cost per unit:- approx. 14 pence
Off peak cost per unit:- approx. 8 pence

Option 2 – An Electric combination Boiler (Thermaflow)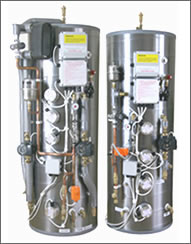 A large hot water thermal store cylinder, which will provide mains pressure hot water for baths, showers etc. and also heats the house. These boilers often need large cupboard space, but will not require a separate boiler unit. They need no other tanks as they work on a sealed system.
These boilers work on the Economy 2000 tariff from Scottish Power and supply electricity to the boiler heat store for 18 hours a day. During this time the heat energy is stored up inside the boiler and has enough power to give adequate heating and hot water during the shut-down periods. The pumps on the boilers are supplied from the domestic electricity and are supplied 24 hours a day thus allowing the heating and hot water to be active 24 hours a day.
These boilers are more expensive to install but cheaper to run as the price of every Kilowatt hour is approx. 6.1 pence, making it approx 50% a year cheaper to run (as of Feb 09).
The tariff is available from Scottish power and works by giving you a 18 hours of off peak, (half price) electricity per day. The economy 2000 should only be used on Thermal store boilers.
Existing Scottish Power users can usually have the meter fitted within 21 days. Transferring to Scottish Power from your existing supplier can be done by telephoning 0141 568 6065. They will give you an indication of the average running costs. You will, however, need to ask for the Customer Liaison Officer to call you back and this can take 1-2 days.
The meter works by radio signal and the shut down periods are:-
08.00 – 10.00am
12.00 – 02.00pm
04.00 – 06.30pm
Gas central heating ~ Electric central heating ~ Underfloor heating ~ Condensing boiler ~ Combi boiler